In this hands-on course, you will learn how to implement Interprocess Communication (IPC) mechanisms using the ACE (ADAPTIVE Communication Environment) IPC Service Access Point (SAP) classes and the Acceptor/Connector pattern. The course will also show you how to use a Reactor in event demultiplexing and dispatching; how to implement thread-safe applications using the ACE thread encapsulation class categories; and how to identify appropriate ACE components to use for your specific application needs.
OBJECTIVES
Implement IPC mechanisms using the IPC SAP classes and the acceptor/connector pattern
Utilize a reactor in event demultiplexing and dispatching
Implement thread-safe applications using the thread encapsulation class categories
Identify appropriate ACE components
Prerequisites
To get the most out of this course, we recommend students are comfortable with the C++ language (including templates), software development in a Unix or NT environment, and client-server architecture and network programming concepts.
Duration & Format
4 days (24 hours)
This course can be conducted at your location or in our Midwest training lab (12140 Woodcrest Executive Drive; St. Louis, MO. 63141).
OUTLINE
The following topics are covered in this course:
ACE architecture and components
How to access operating system services
Overview of network programming interfaces
Network programming using TCP and UDP classes in ACE
Acceptor and connector patterns
Event demultiplexing with the reactor
Implementing event handlers for I/O, timers, and signals
Thread management and synchronization
Shared-memory allocators and specialized local-memory allocators
Dynamic configuration with the service configurator
Message queues and stream processing
Logging and debugging
Maximize your training experience by adding these courses to your curriculum.
Professional Training for Modern Technology Teams
Open Enrollment Courses
Open enrollment courses are a great, cost-effective option for organizations that have an immediate need to train a small number of employees.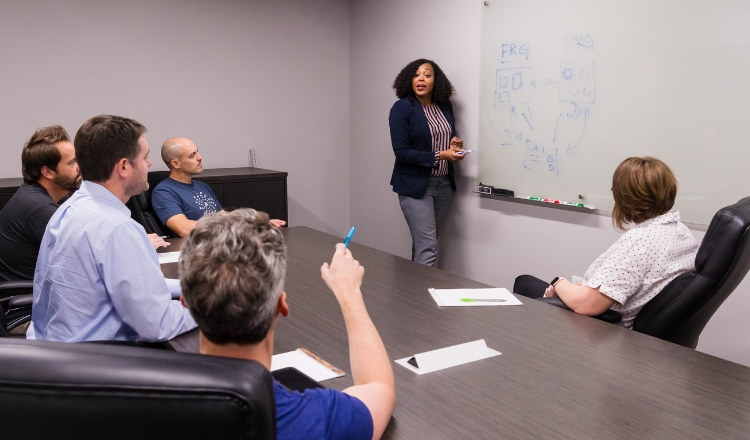 Customized Training Programs
Customized training programs can be delivered on-site, in our training lab, or online to help organizations enhance the skills of their internal development teams.