On September 12th, 2017, OCI hosted an Open Source Breakfast Briefing at the Cortex Innovation Community. Technology leaders from the Saint Louis area gathered to discuss business strategies related to the adoption of Open Source technologies.
The event highlights are summarized below.
---
Rapid and unpredictable advances in technology have presented challenges as well as opportunities. In the not-so-distant past, an organization's competitive advantage depended on its ability to closely guard its resources -- and companies went to extreme measures to conserve those precious resources.
Over time, those same measures that were intended to protect an organization's demise inevitably led to unsustainable overhead and idle capital.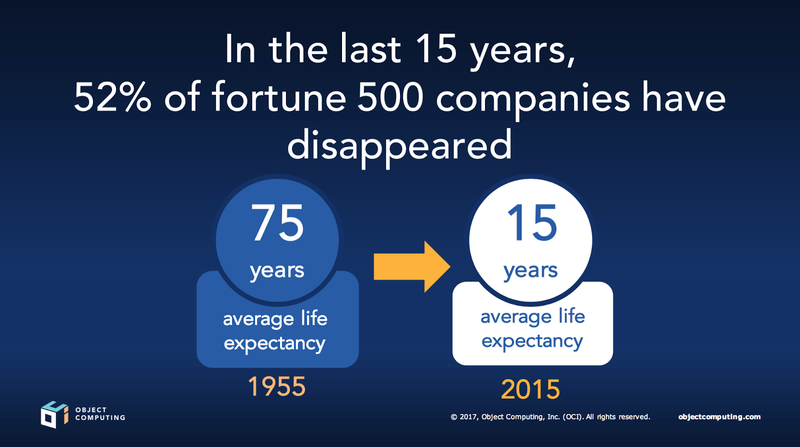 Today, the success of an organization depends overwhelmingly on its ability to collaborate and cooperate. Using Open Source technologies - and engaging in the active and productive Open Source communities - enables organizations to transform idle capital and into sources of revenue.
---
Business is Opening Up
"The business problems we all face are hard to solve. The advancement of off-the-shelf technology hasn't made it any easier ... it's actually getting harder," said Joe Epplin, Chief Architect at Maritz. "We have turned to Open Source as a viable solution to proprietary software as a means of accelerating software development cycles and to remove inefficiencies."
The critical technology demands of the healthcare industry are no exception. "On-time delivery of our solutions could be a matter of life or death," said Steve Penberthy, Senior Manager at bioMérieux. "We are evaluating a number of Open Source software solutions that will automate testing and increase our speed to market."


Getting Started With Open Source
With tightening budgets and mounting competition, many technology teams are turning to Open Source software to increase agility and accelerate innovation. Developing an Open Source strategy is an essential first step in this process.
Here are eight ways to get started:


Strategy #1: Test Drive
Avoid technical debt by trying out Open Source software with no obligation and no trial period.
Strategy #2: Coexist
By design, Open Source technology is interoperable. Add Open Source to your existing technology stack to reduce risk.
Strategy #3: The Booster Shot
Prolong the lifespan of your legacy technologies through containerization in the cloud or on new hardware, then modernize in stages.
Strategy #4: Hot Swap
Stand up new capabilities or replace existing technologies without downtime and without paying for two sets of licensing costs. Move at your own pace and purchase support when it makes sense.
Strategy #5: Don't Pay Extra for the Designer Label
Reduce costs by replacing COTS solutions with equivalent Open Source products. Experience low risk, low cost, and faster implementation.
Strategy #6: New Math 2+2=5
Realize that Open Source technology tools, when combined, are greater than the sum of their parts! Combine Open Source tools to amplify value.
Strategy #7: Software > Hardware
Replace purpose-built hardware and scale without compromise.
Strategy #8: Start Your Own Team
Sponsor an Open Source project. Join an existing project or start one!


---