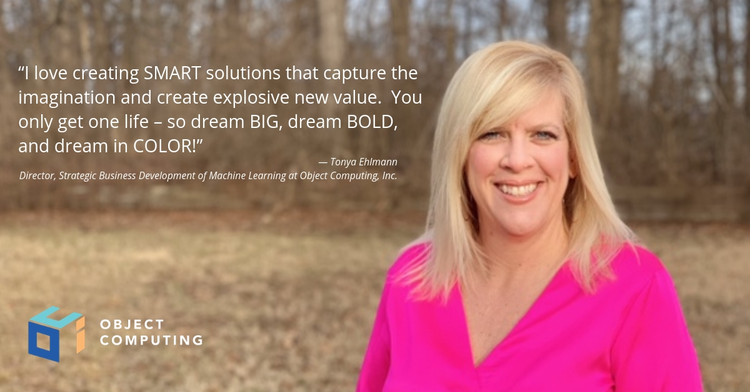 Object Computing, Inc. (OCI) announces addition of senior leadership to Machine Learning Group.
Tonya Ehlmann joins Object Computing as Director, Business Strategy Development of Machine Learning, where she works with clients and partners to reimagine and build technology solutions that connect systems and data, streamline decision-making, and accelerate speed to market through the power of artificial intelligence (AI).
Tonya joins OCI with nearly twenty years of deep industry experience, recently serving as a key leader for a Fortune 500 agricultural biotechnology company. Her work has had global impact in the delivery of insect-resistant and herbicide-tolerant seed varieties that have transformed agriculture and improved rural prosperity.
Tonya also pioneered the application of AI, Big Data, and the internet of things (IoT) to create predictive digital advisors that enable digital farming and create new value. She has a proven track record of building next-level teams where innovation, personal flair, and focused outcomes combine to ignite game-changing creativity that snowballs into industry-changing new value.
Tonya served as a Science and Technology Fellow (2018) at Monsanto (now Bayer), a company recognized for scientific innovation, community engagement, and business impact.
She has led more than 10 patent filings spanning key scientific innovations in the application of machine learning to enable product placement and product portfolio optimization.
She volunteers through child sponsorship and in-country support for Hearts & Hope, focused on improving lives and community development in rural Uganda.
Tonya earned her BA in Molecular Biological Sciences from University of Missouri-Columbia and her MBA from Maryville University.
When she's not using technology to light up the world, Tonya focuses on inspiring a high-energy, creative environment where all team members can be their best selves. She is a role model of executive accomplishment for women in technology and is often seen on the soccer sidelines, proudly cheering as her son defends for Lutheran High School.
Please join us in welcoming Tonya to Object Computing!