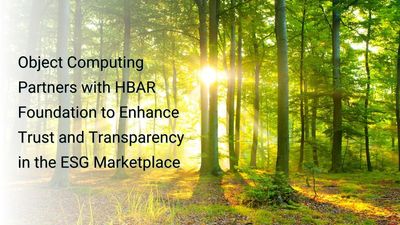 Today, Object Computing is pleased to announce that we're partnering with HBAR Foundation to improve trust and transparency in the Environmental, Social, and Governance (ESG) marketplace through the development of an innovative distributed ledger system that facilitates open data and price discovery.
Through this partnership, over the coming months, we will lead the design and development of an open source marketplace on the Hedera Hashgraph where investors can buy and sell tokenized ESG assets.
This marketplace, which is part of HBAR Foundation's investment in open source infrastructure through the Sustainable Impact Fund, will enable participants to identify, price, buy, and sell ESG assets through a simple, trustworthy digital interface.
By offering an immutable mechanism for auditing asset ownership, quality, origin, and other attributes throughout each offset's lifecycle, the system will drive liquidity, add new levels of transparency to trading activities, and eliminate a variety of issues that currently interfere with market pricing and participation.
"We're excited to lead this groundbreaking new venture," our CEO, Bob Elfanbaum, said. "We share HBAR Foundation's commitment to making a meaningful impact on our environment and look forward to activating the emerging breadth and value of tokenized ESG assets at scale."
A vital component of the ESG marketplace is an Automated Regression Market Maker (ARMM), a revolutionary technology pioneered by BlockScience. At its core, ARMM is a price-discovery mechanism for semi-fungible assets, such as energy credits and carbon offsets and removals. The ARMM simplifies regulatory compliance and enables businesses to more easily advance sustainable energy efforts.
Additionally, we will contribute to enhancing the Guardian, Hedera's open source policy workflow engine. We'll work with offset producers and other stakeholders to tokenize assets with supporting data and metadata transparently registered on Hedera's hashgraph, bringing fully auditable, high-quality ESG assets to the marketplace.
In support of the partnership, HBAR Foundation Sustainability and ESG VP, Wes Geisenberger, cited our expertise in building open source software and our proven track record with complex engineering projects. He went on to say, "Object Computing's strong understanding of Hedera and DLTs is one of many reasons we're confident this collaboration will result in innovation that improves the quality of markets for these real-world assets."
For more than 30 years, Object Computing has leveraged open source technology to build highly performant and scalable enterprise systems. This partnership with HBAR Foundation is an opportunity to support our core values of "innovating courageously and mindfully" and "sharing it back."
Learn more about our blockchain and DLT expertise, or add your name to our mailing list below to follow the progress of this groundbreaking project.