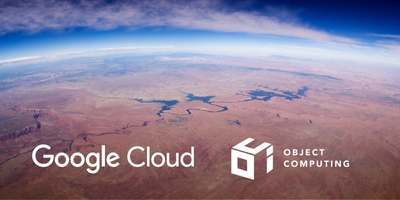 Object Computing today announced that it has achieved the Google Earth Engine (GEE) Expertise in Google Cloud Partner Advantage. The designation demonstrates Object Computing's technical expertise and success with Google Earth Engine, which helps companies build sustainable business practices while responsibly managing natural resources.
GEE offers a powerful, cloud-based platform for geospatial data analysis and retrieval, providing access to vast amounts of freely available, public, and multi-temporal remote sensing imagery. With the increase in computational power and advances in artificial intelligence (AI) methods, GEE provides a unique opportunity to monitor and understand global issues such as changes in forestry, water supply, and biodiversity.
"We're proud to be one of a small, global group of partners to achieve the GEE Expertise," said CEO Bob Elfanbaum. "Combining this tremendous technology with our geospatial capabilities enables us to offer our clients the ability to analyze and manipulate data according to their needs."
By combining Object Computing's AI methods with GEE, Object Computing offers the opportunity to achieve unprecedented levels of accuracy and speed in remote sensing-based monitoring and analysis, allowing for more effective and reliable decision-making.
"We're excited to achieve GEE expertise, because it's truly an incredible standalone product," said Andrew Montgomery, director of product innovations. "By integrating it with our Asterisms platform, we deliver tremendous outcomes for enterprises seeking to improve sustainability, efficiency, intelligence, and revenue–in weeks, not months."
Asterisms™, Object Computing's proprietary application framework, supports a multi-tenant fabric of applications. It provides core capabilities for applications out of the box, and specialized accelerators to unlock rich data insights tailored to businesses.
GEE leaders are collaborating with Object Computing to develop workshops to be deployed in spring 2023, in which participants can apply GEE within Asterisms to their own use cases.
Object Computing, Inc. is a modern consulting company that takes businesses from insights to outcomes using breakthrough technology. Our team has unmatched expertise in building solutions using today's leading-edge technologies, including AI, Machine Learning, Blockchain, and Cloud. As one of the pioneers of enterprise open source solutions, we strategically integrate best-in-class technologies into enterprise solutions to deliver impactful digital capabilities that enable scalability, reusability, security, and quality.