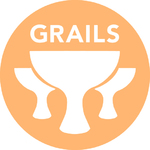 Grails is an Open Source, high-productivity framework for creating large-scale web applications.
The Grails Framework supports the development of many application types, including e-commerce websites, content management systems (CMS), and RESTful web services. By leveraging sensible defaults and convention-over-configuration, Grails significantly increases developer productivity and reduces the time and effort to develop complex apps.
TIME TO MARKET
• Developer Efficiency. Incorporating convention over configuration, Grails eliminates much of the configuration effort typically required in building robust web applications.
• Reusability. The Grails framework applies the "Don't Repeat Yourself" (DRY) principle, thereby eliminating repetition and hidden bugs, and enabling faster and easier enhancements.
• Ease of Java Integration. Grails developers take advantage of the extensive libraries developed for the JVM, even those not written in Groovy.
• Agility. Iterative development is a hallmark of the Grails framework, because teams can carve out functionality in short sprints, with checkpoints and testing along the way. The built-in testing framework helps maintain code quality throughout the development process and reduces defects in the final product.
COST SAVINGS
• Increased Developer Productivity. Grails was specifically designed to facilitate developer productivity. The efficiency and precision of the code means faster development with fewer bugs and less code. Grails includes a development time reloading agent to support the dynamic reloading of code changes, thereby reducing the number of container restarts in the development environment.
• Plug-Ins. The Grails plugin system enables code reuse across projects, allowing development teams to spend less time solving common web problems and more time focused on implementing real business requirements.
• Low Maintenance. Foundational design assumptions eliminate the need for boilerplate code and account for an easier-to-navigate framework for developers, thereby reducing maintenance complexity and project costs.
Object Computing Commercial Grails Support
Take your software development projects to the next level with commercial Grails support and consulting services provided by the core Grails development team.
Grails support services are provided by the core Grails development team, including Grails co-founders, Graeme Rocher and Jeff Scott Brown, and the architects and engineers who developed the framework and have spent their careers supporting and maturing it.
Up to 24/7 customized commercial support
Enjoy expert consulting and engineering support on your schedule with our flexible, ad-hoc support model. Complete projects faster and more efficiently with as much or as little assistance as you require, and pay only for the hours you use.
Architecture and design review
Rapid prototyping, troubleshooting, and debugging
Feature and application development
Integration assistance and support
Migration Support
Efficiently adopt the newest iteration of the Grails Framework, whether you're upgrading from an older version or migrating to Grails from other technologies.
Engage our engineers to help your internal team make the transition, or let us manage the migration from start to finish, so you can stay focused on other business.
Framework Customization
Make the Grails Framework fulfill your exact needs with customized features and enhancements.
Team Augmentation
Easily address team bandwidth issues by engaging our engineers to work alongside your team as embedded experts.
Turn over entire projects, or let us maintain or advance development efforts while your team remains engaged in priority activities.
Whole Project Outsourcing
Outsource entire projects to our engineering team. We'll work with you to develop software solutions from the ground up, ensuring that you receive clear estimates, schedules, and projections throughout the process and employing our full suite of services, including architecture and design, UI/UX, DevOps, and more, as needed.
Professional Training
Our Grails training courses are developed and delivered by the folks who created and actively maintain the Grails framework and can be delivered on site, online, or in our state-of-the-art training lab in St. Louis, Missouri.
Courses provide your team with the knowledge and skills to maximize developer productivity with Grails and related technologies.

Technical Collaboration
Have technical questions about your Grails project?
Request access to the Grails Community Slack Channel. More than 3,500 Grails developers, including members of the Object Computing Grails Team, are active in this channel, and it's a great place to ask questions and contribute ideas.
Sponsor Feature Development
Many of our clients fund plugin, feature, or other development work, allowing us to "give it back" to the community! When you "Open Source" development, you enable the community to further enhance, battle test, and improve Grails for all ... in real time!
What's Happening
Grails News
---
What's Trending