We deliver mission-critical software solutions that accelerate innovation within your organization and stand up to the evolving demands of your business.
Our software engineering solutions are architected and built for superior quality, operational efficiency, and extensibility to adapt to future demands. Our full lifecycle software engineering capabilities span multiple business and technology domains, including real-time, embedded, large-scale, integrated, and distributed systems, to modern web, mobile, and cloud-enabled applications. Our experienced and disciplined software engineers embrace continuous learning and professional development to refine and enhance their collective skills and leverage software development best practices. Mentoring and knowledge transfer are core to our service delivery, helping improve the efficiency and effectiveness of our clients' teams.
Case Study:
Relieving Technical Debt and Powering the Future
To maintain its position as a world-class provider of energy and telecommunications solutions, NISC recognized a need to upgrade its customer-facing, mission-critical application suite, the iVUE® AppSuite.
Without these critical upgrades, the application suite risked gradual obsolescence, as modern iOS standards surpassed its core functionality. Delaying the upgrades would necessitate extensive refactoring of the codebase, resulting in costly delays to NISC's release schedule.
We helped lead the upgrade project and supported NISC in transforming its iVUE AppSuite into an award-winning application.
Top priorities for technologists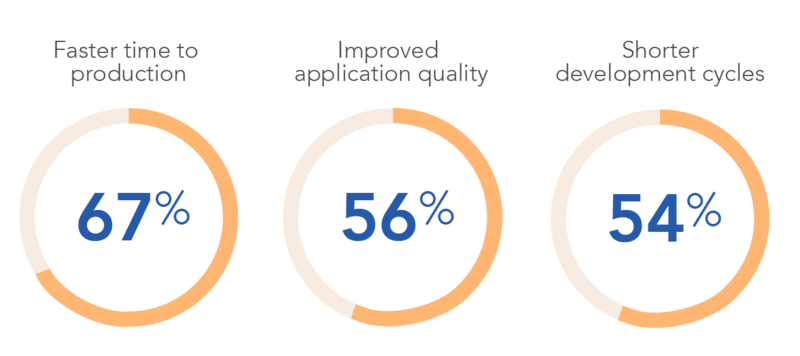 Legacy Applications Holding You Back?
Innovate incrementally with microservices. A microservice architecture helps organizations embrace continual innovation. To succeed with a microservice architecture, a comprehensive and practical approach is required.
Let us help you identify your architectural pain points, prioritize your objectives, and develop a microservice transition plan ― keeping your architecture working for your business, not against it.
Discover a Better Way to Operate
With the convergence of today's technologies and systems, adopting Open Source technologies is more than a good idea – it's an imperative.
Businesses that wait for commercial software companies to build the digital tools they need from the ground up risk being left behind; those that seek out flexible technology solutions built on existing foundations are more likely to realize rapid growth and success.
Build Better Software Faster
To conquer the never-ending challenges of modern business, technology teams must shift from monolithic applications toward an application architecture that enables agility, extensibility, and continuous delivery. We can help.
Digital Innovation: What's Holding You Back?
Download the Digital Innovation Benchmark Report and learn:
The most common roadblocks to digital innovation and strategies for overcoming those roadblocks
The top 3 outcomes that technologists are looking to achieve through investments in digital innovation
How modern technology leaders are accelerating digital innovation within their organizations