CISSP is the premier certification for today's information systems security professional. It remains the premier certification because the sponsoring organization, the International Information Systems Security Certification Consortium, Inc.
The skills and knowledge you gain in this course will help you master the eight CISSP domains and ensure your credibility and success within the information systems security field.
OBJECTIVES
This exam preparation course expands upon your knowledge by addressing the essential elements of the eight domains that comprise a Common Body of Knowledge (CBK) for information systems security professionals. The course offers a job-related approach to the security process, while providing a framework to prepare for CISSP certification. In this course, you will identify and reinforce the major security subjects from the eight domains of the (ISC)2 CISSP CBK. You will:

Analyze components of the Security and Risk Management domain.
Analyze components of the Asset Security domain.
Analyze components of the Security Engineering domain.
Analyze components of the Communications and Network Security domain.
Analyze components of the Identity and Access Management domain.
Analyze components of the Security Assessment and Testing domain.
Analyze components of the Security Operations domain.
Analyze components of the Software Development Security domain.
Prerequisites
CISSP certification requirements include a minimum of five years of direct professional work experience in two or more fields related to the eight CBK security domains, or a college degree and four years of experience.
Duration
5 Days (40 Hours)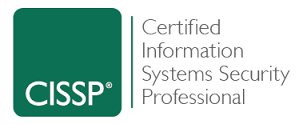 OUTLINE
Security and Risk Management
Asset Security
Security Engineering
Communications and Network Security
Identity and Access Management
Security Assessment and Testing
Security Operations
Software Development Security
INTENDED AUDIENCE
This course is intended for experienced IT security-related practitioners, auditors, consultants, investigators, or instructors, including network or security analysts and engineers, network administrators, information security specialists, and risk management professionals, who are pursuing CISSP training and certification to acquire the credibility and mobility to advance within their current computer security careers or to migrate to a related career. Through the study of all eight CISSP Common Body of Knowledge (CBK) domains, students will validate their knowledge by meeting the necessary preparation requirements to qualify to sit for the CISSP certification exam.
WHAT's included
Physical Copy of Course Study Guide
Electronic Copy of Course Study Guide
Electronic Copy of Course Slides
Self-Assessment Tests
Online Access to Exam Preparation and Course Content, such as:

Videos
Checklists
Course Files
Assessment Exams
Maximize your training experience by adding these courses to your curriculum.
Professional Training for Modern Technology Teams
Flexible Technology Training
Keep your team on the cutting edge with our technology training offerings.
Courses are developed and led by practicing software engineers and subject matter experts.
All courses can be customized to meet your organization's unique needs.
Courses can be conducted at your location, online, or in our state-of-the-art training lab in St. Louis, Missouri.
Many of our courses are also offered to the public both online and at our Midwest training lab for your convenience.
Visit our training schedule to sign up for upcoming webinars, workshops, and classes, or conduct your next training program in our technology training lab.